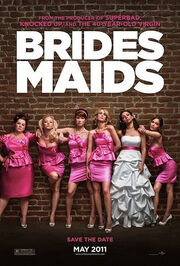 Bridesmaids is a 2011 American romantic comedy film directed by Paul Feig, written by Annie Mumolo and Kristen Wiig, and produced by Judd Apatow, Barry Mendel, and Clayton Townsend. The plot centers on Annie (Wiig), who suffers a series of misfortunes after being asked to serve as maid of honor for her best friend, Lillian, played by Maya Rudolph. Rose Byrne, Melissa McCarthy, Ellie Kemper, and Wendi McLendon-Covey costar as Annie's fellow bridesmaids, with Chris O'Dowd, Jon Hamm, and Jill Clayburgh (in her last film appearance), playing key supporting roles.[1]

Actresses Mumolo and Wiig crafted the screenplay after the latter's casting in producer Apatow's comedy film Knocked Up (2007). Budgeted at $32.5 million, filming took place in Los Angeles, California. Upon its opening release in the United States and Canada on May 13, 2011, Bridesmaids was both critically and commercially successful. The film grossed $26 million in its opening weekend, eventually grossing over $288 million worldwide, and surpassed Knocked Up to become the top-grossing Apatow production to date.[2] It received a 90% overall approval rating according to Rotten Tomatoes and served as a touchstone for discussion about women in comedy.[3][4][5]

The film was nominated for a Golden Globe Award for Best Motion Picture – Musical or Comedy, and received multiple other accolades. On January 24, 2012, the film was nominated for both the Academy Award for Best Supporting Actress for Melissa McCarthy and Best Original Screenplay. This made it the first Apatow-produced film to be nominated for an Academy Award.
Cite error: <ref> tags exist, but no <references/> tag was found